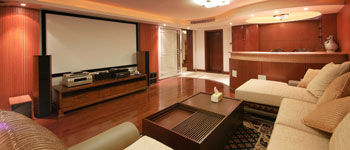 Anytime you remodel a room or add new space to your home it not only fulfills a need, it generates excitement and adds value to your house. Depending on your family's lifestyle needs, Anderson Contracting can create the living environments you want whether the style is a Contemporary, Traditional, Mediterranean, Tudor, Hampton's or beach community.
Think of all the possibilities to upgrade your home to beautify it, expand it or add function. There are dramatic facelifts to the exteriors and makeovers to interiors. Capitalize on existing space in basements and attics to create a new space at less cost than new construction. Add modern appliances and go green to save on energy costs. Install programmable controllers that put control of things around the house at your fingertips. Make the house environment more conducive for the physically challenged. The ideas are endless.
Anderson Contracting has the know-how to give you creative design ideas and construct to your imagination. Our principals and when needed, our architectural and design services, will work with you to capture what you expect the design to be. If there is fire or water damage and you need service to restore the space to its original condition – or enhance it through remodeling – we are insurance repair experts and a qualified insurance appraiser.
ANDERSON CONTRACTING IS RATED A+ BY THE BBB
LIVING SPACE REMODELING IDEAS FOR YOUR HOME
Makeover the KITCHEN or BATHROOM with any amenity you desire
Add a VAULTED CEILING to create a dramatic great room
Make your bedroom a MASTER SUITE with custom closets, elegant windows and Jacuzzi
Convert a basement into a FAMILY ENTERTAINMENT CENTER or PLAY ROOM for the kids
Convert the attic into a LOFT AREA or spacious HOME OFFICE
Add BIG WINDOWS to open-up the room and bring in more natural light
Create a MEDIA ROOM or elaborate A/V THEATRE ROOM for the family to go and relax
Make the DINING ROOM a formal one for entertaining guests
Open-up the LIVING ROOM to capture a spectacular view to the outdoors
Add an eye-catching FIREPLACE where you can "cozy-up" in the winter
Create an environment more conducive to the needs of the PHYSICALLY CHALLENGED
Turn the GARAGE into just about any type or room needed
Put an OUTDOOR DECK to expand the living area from indoors to outdoors
Install PROGRAMMABLE CONTROLLRS to put convenience around the home at your fingertips
GO GREEN on certain things to conserve energy and save money
Replace old things around the house to make a SAFER ENVIRONMENT for your family

Anderson Contracting Co. of Long Island, Inc. is Fully Licensed and Insured
Our primary trading areas are:
Nassau License # 1834630000 / Suffolk License # 7943HI