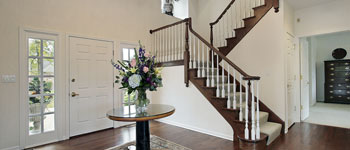 An entranceway makes an immediate statement about the personality of your house. It creates a first impression that sets the mood for the interior of the home. Your signature can be one of simplicity and elegance, or it can be as grand as you would like and say ultimate luxury.
Entranceways start with the outside of the house and blend seamlessly right into the interior of your home. There are many ways to enhance the entranceway to add architectural detailing and symmetry. Call Anderson Contracting and we can show you how. We will expertly construct the new addition to the character of your home's external appearance, while maintaining the integrity of its interior. Ideas include:
Porticos are dramatic and attract attention while functioning as an overhead against inclement weather.
Doors serve as the transition from the outside to the inside. Solid wood doors create a rich, warm feeling and can be painted or stained in virtually any color. Choices include oak, mahogany, Douglas fir, cherry and maple.
Designer hardware on the door provides a finishing touch with choices in satin chrome, polished chrome, polished brass, dark bronze, white and pewter.
Sidelight windows next to the front door make the doorway appear wider and allow more daylight to enter inside.
Transoms or windows above the door provide more height and stature while allowing natural outdoor light to enter the foyer.
Decorative glass in colored, textured or frosted patterns added in your door, sidelights or transom serves as a natural prism to further beautify the inside of your home.
As with the exterior, large open spaces in the foyer area serve as a warm invitation into your home for you and your guests. Converting attic space can expand the height and open up the foyer as a two-story entranceway. Tile flooring and wall coverings provide beautiful accents. And an elegant staircase blends everything together to put your signature on the impression.
ANDERSON CONTRACTING IS RATED A+ BY THE BBB

Anderson Contracting Co. of Long Island, Inc. is Fully Licensed and Insured
Our primary trading areas are:
Nassau License # 1834630000 / Suffolk License # 7943HI