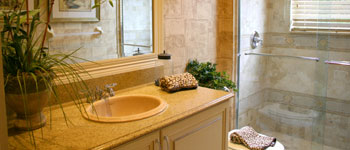 Bathrooms have gained in status within the home. No longer just for function, a bathroom is now as planned a room as any within the house. It has become a place to unwind, relax and pamper yourself with a relaxing shower or spa-like treatment in a Jacuzzi. More than ever, a bathroom's style and decor reflects the personal taste of the homeowner.
As a result, we want today's bathrooms to have more luxury amenities and comfort features. There are many ways to modernize, expand and improve the functions of a bathroom. If you are thinking that it is time to make a change, call Anderson Contracting for a FREE CONSULTATION. A principal of our company will be happy to visit your home, give you design ideas and discuss how we can capture the vision of what you want for your bathroom. Whether the style is antique, traditional, contemporary or modern, Anderson Contracting will create the bathroom that reflects your personalized taste and lifestyle needs of your family.
When your bathroom remodeling is done by Anderson Contracting, we guarantee that the job will be done right the first time without the need for callbacks to fix it. Unlike others, we only use skilled licensed electricians and plumbers. We only use quality materials from the leading brands. And bearing an unforeseen circumstance, we complete the job on time and within the budget agreed upon.
If your bathroom needs to be repaired or remodeled out of necessity because of water leaking or flooding, we are also INSURANCE REPAIR EXPERTS for Water Damage. We can do everything from damage control to clean-up to restoration to get your life back to normal as quickly as possible.
ANDERSON CONTRACTING IS RATED A+ BY THE BBB
ANDERSON BATHROOM REMODELING IDEAS
Replace outdated looks with elegant PEDESTAL SINKS, VANITIES, TILES and FIXTURES
Add comfort amenities such as a JACUZZI or a STEAM SHOWER
Convert your bathroom into a MASTER BATHROOM SUITE with a separate toilet for privacy
Replace old bathtubs that have faded or chipped with a new DEEP SOAKING TUB
Replace older FAUCETS with stylish new steel designs and décor FIXTURES
Bring-in more natural light with WINDOWS or SKYLIGHTS to brighten the dark spaces
Convert wasted space into more STORAGE SPACE and ADDED AMENITIES
Add another FULL BATHROOM or a POWDER ROOM used by guests and family
Convert hard-to-clean floor or bathtub wall tiles to new DECORATIVE and easy-to-clean TILES
Expand or change the LAYOUT to include more AMENITIES and CONVENIENCES
GO GREEN with low-flow toilets, natural stone tiles and flooring, and recycled wood vanities

Anderson Contracting Co. of Long Island, Inc. is Fully Licensed and Insured
Our primary trading areas are:
Nassau License # 1834630000 / Suffolk License # 7943HI