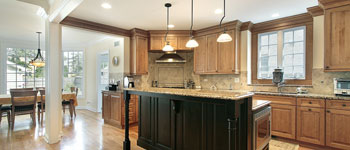 The kitchen is considered the heart of a home. It's the room most frequently used. It's a place where guests gather for social occasions. And it is the one room in your entire house that typically reflects the personality of your household.
There are many ways to modernize the look and improve the functionality of a kitchen. If you are thinking that it is time to make a change, call Anderson Contracting for a free kitchen remodeling consultation. A principal of our company will be happy to visit your home and discuss how we can capture the vision of what you want your kitchen to be. We have the know-how and experience to transform your kitchen whether it's to modernize, add function or improve safety. We do it all for traditional, country, contemporary and Euro styles — from moderate improvements to complete makeovers.
When Anderson Contracting remodels your kitchen, we guarantee that the job will be done right the first time without the need for callbacks to fix it. All our contractors are experts in kitchen remodeling. We only use quality materials from the leading brands. And bearing an unforeseen circumstance, we complete the job on time and within the budget agreed upon.
☆

ANDERSON CONTRACTING IS RATED A+ BY THE BBB
ANDERSON KITCHEN REMODELING IDEAS
Replace outdated APPLIANCES with modern stainless steel or traditional ones
Redo COUNTER TOPS, BACKSPLASHES and CABINETS for a stylish new look
Replace outdated FLOORS with attractive, easy-to-clean tile or stone surfaces
Bring-in more natural light with WINDOWS or SKYLIGHTS that brighten the entire room
Add an EXTENSION that serves as a breakfast nook or a view to the outdoors
Update or add LIGHTING FIXTURES and ELECTRICAL OUTLETS for looks and safety
Build-in PULLOUT CABINETS, HIDEAWAY APPLIANCES and FULL EXTENSION DRAWERS
GO GREEN with new energy saving, water saving and cost saving products
"As a guide, a remodeled kitchen could return up to 125% of your investment at resale time."

Anderson Contracting Co. of Long Island, Inc. is Fully Licensed and Insured
Our primary trading areas are:
Nassau License # 1834630000 / Suffolk License # 7943HI