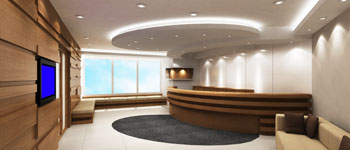 Expert Commercial Contracting Services Since 1982
Since 1982, we have been one of Long Island's leading commercial remodeling contractors for building owners, property managers, developers, architects and government agencies. From interior and exterior remodeling, to expansion to insurance restorations, we can do everything your project requires right through to putting paint on the walls and carpets on the floor.
Our qualifications and understanding of commercial remodeling work assures that your job gets done right and costs stay under control. We can prepare a detailed and accurate proposal if required. Our architectural and design services are available for space planning and aesthetic design. We follow all building codes and manufacturers' specifications for safety and cost-efficiencies. We have excellent relationships with material suppliers to receive discount prices and on-time deliveries. Our workers are licensed and highly skilled in their areas of specialty and have been with the company for many years. And principals of our company work on your job site, so we are always accessible for you to ask questions.
Anderson Contracting is also Insurance Repair Experts and a Qualified Insurance Appraiser. So we have the necessary experience and know the process to help you in insurance situations. We can restore your building to its original condition if damaged by fire or water, or construct to new specs if enhancements are desired.
☆

ANDERSON CONTRACTING IS RATED A+ BY THE BBB
Exteriors
Interiors
Executive Offices
Reception Areas
Meeting Rooms
Retail Stores
Schools
Sports Complexes
Government Buildings
Handicapped Accessible
Landmark Restorations
Insurance Repair Appraiser
Fire Restoration
Hospitals
Churches
Restaurants
Cafeterias
Hotels
Medical Facilities
Industrial Complexes
Water Restoration
Construction Plans & Budgets
Architectural Planning
Design Service
Detailed Proposals

Anderson Contracting Co. of Long Island, Inc. is Fully Licensed and Insured
Our primary trading areas are:
Nassau License # 1834630000 / Suffolk License # 7943HI