THE LATEST TECHNOLOGY TO SAVE MONEY & OUR PLANET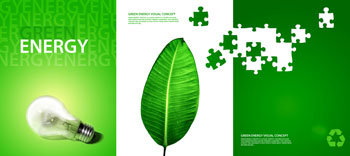 More and more people are becoming Green conscious both in the home and at the workplace. We all know the benefits — reduce your energy consumption, save on your electric bills, and help protect the environment in the process. But just as important, you can create a healthier indoor environment for your family.
Contrary to perception, you don't necessarily have to do much on your part. There certainly are many opportunities with today's products that are simple to implement and Anderson Contracting can give you options. Around the house, simple things like energy-efficient bulbs, light dimming controls, appliance controls, and room vacancy light sensors can make a big difference. So too can high efficiency windows and insulation, and electronic air filters that improve the quality of air in your home. Use Energy Star rated appliances such as air-conditioners, refrigerators, washers, dryers and water heaters. You can save about 30% per year on energy costs with affordable Green products. Additionally, the Federal Government offers tax credits for selected products, which further increases your savings.
Commercial buildings built in years past were not designed to accommodate a computer, monitor, printer and digital phone on every desk. Anderson Contracting can show you how to integrate new ways into your electrical system to deliver better service and significantly reduce the long-term cost of energy consumption. High efficiency fluorescent lamps and electronic ballasts, data cables, dimming controls, room occupancy sensors, daylight sensor fixtures, and transformers are just some of the technological advances that your building may be without.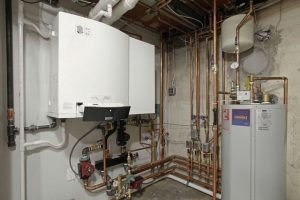 Many green technologies that may be good for the environment do not make economic sense. At Anderson we like win-win situations. Would you like to save many thousands of dollars on home heating costs? Are family members complaining that you keep your home too cold? You want to go green? We can accomplish all three of these goals at the same time.
Most homes are using heating technology that is hundreds of years old. In the Middle Ages it might have made sense to heat your home burning wood or coal in a fireplace while letting heat energy go up in smoke through the chimney. Now days your furnace burns oil or gas, but you still have the same problem. Expensive valuable heat energy is going up the chimney. The problem has always been intensified by the fact that your furnace needs oxygen to burn along with your fuel.
Most furnaces suck the warm air that is in your home and use it to combust with your oil or gas fuel. The hot combustion gases are vented through your chimney. The warm air that the furnace sucked out of your home has to be replaced to equalize the air pressure in the home. Cold air from the outside environment is sucked into your home. The colder it is outside, the harder your furnace has to work to heat up your home. The furnace needs more oxygen to burn when it is working harder. This draws more cold air into your home to fuel the combustion process. Now the furnace has to heat the new cold air that it just sucked into the home.
At Anderson we can utilize state of the art ultra-efficient direct vent boilers and furnaces. These units take their combustion air from the exterior of the home. These units take most of the BTU's of heat energy out of the hot exhaust gases that normally would go up your chimney and use the BTU's to heat your home.
The below picture shows two PVC pipes that we install outside of your home. One pipe is for the fresh air intake for the furnace. The other pipe is for the furnaces exhaust gases. As you can see in the picture the exhaust gases are cool enough to place your hand into the exhaust stream. We abandon your furnace chimney. It is no longer needed.

Look at the pictures of the two furnace systems that we use. The computerized Buderus Wall Hung Furnace Heating System provides up to 94%+ efficiency rating. These units can supply instantaneous hot water. We prefer to utilize the Buderus furnace with a separate TURBOMAX Instantaneous Indirect Water Heater. This device provides an ultra energy efficient storage tank. We have installed this system in a large 4 bedroom, 3 1/2 bath home with a large whirlpool bathtub. The owners never run out of hot water.
How much money can you save in heating costs with this technology? One of our clients had us replace an old oil fired boiler and a separate gas fired hot water heater with the Buderus / TURBOMAX combination system you see in the picture. This client was paying around $4,000 a year for oil and $1,100 a year for gas. The oil fueled the boiler. The gas fueled the hot water heater and a gas clothes dryer. Look at the attached nationalgrid gas bill.
The client was on a monthly payment plan of $131 a month. That is $1,572 for a full year of hot water and heating plus the gas for the clothes dryer! Oh – they are dropping the monthly billing budget to $95. This fuel cost savings is one real life example. Your savings may vary depending on many factors.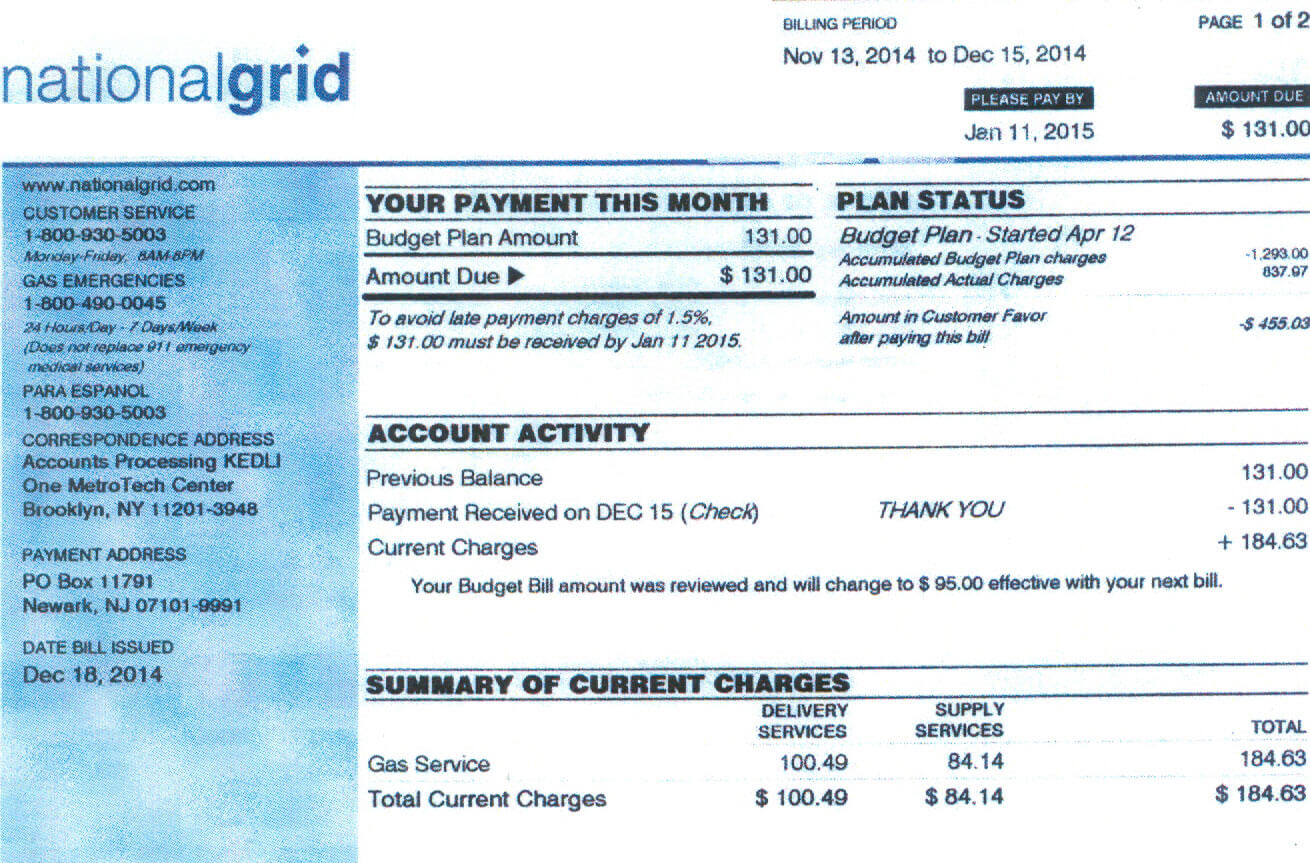 Anderson Contracting Co. of Long Island, Inc. is Fully Licensed and Insured
Our primary trading areas are:
Nassau License # 1834630000 / Suffolk License # 7943HI