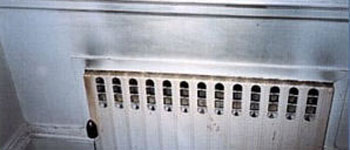 A puff back happens when an oil burner or furnace malfunctions and does not completely combust its fuel. This can cause soot and smoke to spread throughout a building, producing a residue that clings to all surfaces. The residue can be black and sooty, or clear and oily. In either case, the longer it's left on surfaces, the greater the damage, resulting in a more expensive claim and more extensive clean-up procedures. Heavy puff-backs can also damage household clothing, producing odors that normal dry cleaning cannot remove. To eliminate these odors, we use ozone treatments in addition to dry cleaning.
When you have a puff back problem, don't wait. Call Anderson Contracting for a free, no-obligation estimate. We are specifically trained to remediate puff-back problems and take quick clean-up action to minimize long-term damages and costs.
"WE CAN BILL MOST INSURANCE COMPANIES DIRECT, AND WILL WORK WITH YOUR INSURANCE COMPANY FOR YOU"
As Insurance Repair Experts, we have long-standing relationships with insurance companies and adjusters. We fully understand how the insurance claims process works between you the property owner, your insurance company and us as your contractor. We know the analysis programs insurance companies use to determine the cost for allowable repairs.
We also serve as a preferred Qualified Insurance Appraiser within the industry. This means that insurance companies and public adjusters, on behalf of their insured property owners, continually turn to us as an authority to determine exactly what restoration services need to get done and its cost. Our Insurance Appraiser has been selected to serve as an Umpire in Insurance Appraisals. In a situation where the Insurance Company and the Insured Property Owner cannot agree as to the scope of repairs or cost they may decide to demand appraisal. In that case each side selects an expert to serve as their Appraiser.
The two Appraiser's select a third expert Appraiser to serve as an Umpire. Our Insurance Appraiser being selected to serve as an Umpire is testament to both sides respecting the expertise of our Appraiser. In an appraisal situation the two Appraiser's and the Umpire will determine the required scope of repairs and the associated costs involved.
☆

ANDERSON CONTRACTING IS RATED A+ BY THE BBB

Anderson Contracting Co. of Long Island, Inc. is Fully Licensed and Insured
Our primary trading areas are:
Nassau License # 1834630000 / Suffolk License # 7943HI