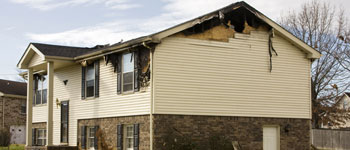 Dealing with the aftermath of a fire is extremely traumatic. When you need to restore your home or commercial building due to damage caused by fire, trust the experience of Anderson Contracting to quickly help you get life back to normal. Since 1982, we have been a preferred choice for restorations on Long Island because we have the specific skills to effectively deal with everything. We know how to totally access all damage and determine exactly what needs to be done. In fact, our expertise in fire damage restoration is so valued that insurance companies, public adjusters and attorneys frequently call us for advice and direction in restoration matters. We have performed restoration services throughout Long Island for historical museums, NYS Department of Transportation in Hauppauge, and schools besides many residences.
While the fire causes the most damage, smoke can also be destructive seeping into enclosed areas and creating odors, discolorations and contaminants in its wake. Additionally, the water used to put out the fire adds to the damage. Unlike most other contractors who simply clean-up the area, we'll respond immediately and have the necessary resources in structural engineers, architects and environmental hygienists to implement cleanup, sanitizing and damage control measures — to protect structures, heating, electrical, and plumbing systems, as well as eliminating odors and preventing potential mold from growing.
✓ WE CAN BILL MOST INSURANCE COMPANIES DIRECT FOR FIRE DAMAGE RESTORATION SERVICES
As Insurance Repair Experts, we have long-standing relationships with insurance companies and adjusters. We fully understand how the insurance claims process works between you the property owner, your insurance company and us as your contractor. We know the analysis programs insurance companies use to determine the cost for allowable repairs. We also serve as a preferred Qualified Insurance Appraiser within the industry. This means that insurance companies and public adjusters, on behalf of their insured property owners, continually turn to us as an authority to determine exactly what restoration services need to get done and its cost.
Our Insurance Appraiser has been selected to serve as an Umpire in Insurance Appraisals. In a situation where the Insurance Company and the Insured Property Owner cannot agree as to the scope of repairs or cost they may decide to demand appraisal. In that case each side selects an expert to serve as their Appraiser. The two Appraiser's select a third expert Appraiser to serve as an Umpire. Our Insurance Appraiser being selected to serve as an Umpire is testament to both sides respecting the expertise of our Appraiser. In an appraisal situation the two Appraiser's and the Umpire will determine the required scope of repairs and the associated costs involved.
☆

ANDERSON CONTRACTING IS RATED A+ BY THE BBB
Damage Control
Water Removal & Clean-up
Structural Drying
Deodorization
Dehumidify
Structural Repair
Restoration
Remodeling
Puff Back Cleaning
Carpets & Fabrics Cleaned

Anderson Contracting Co. of Long Island, Inc. is Fully Licensed and Insured
Our primary trading areas are:
Nassau License # 1834630000 / Suffolk License # 7943HI